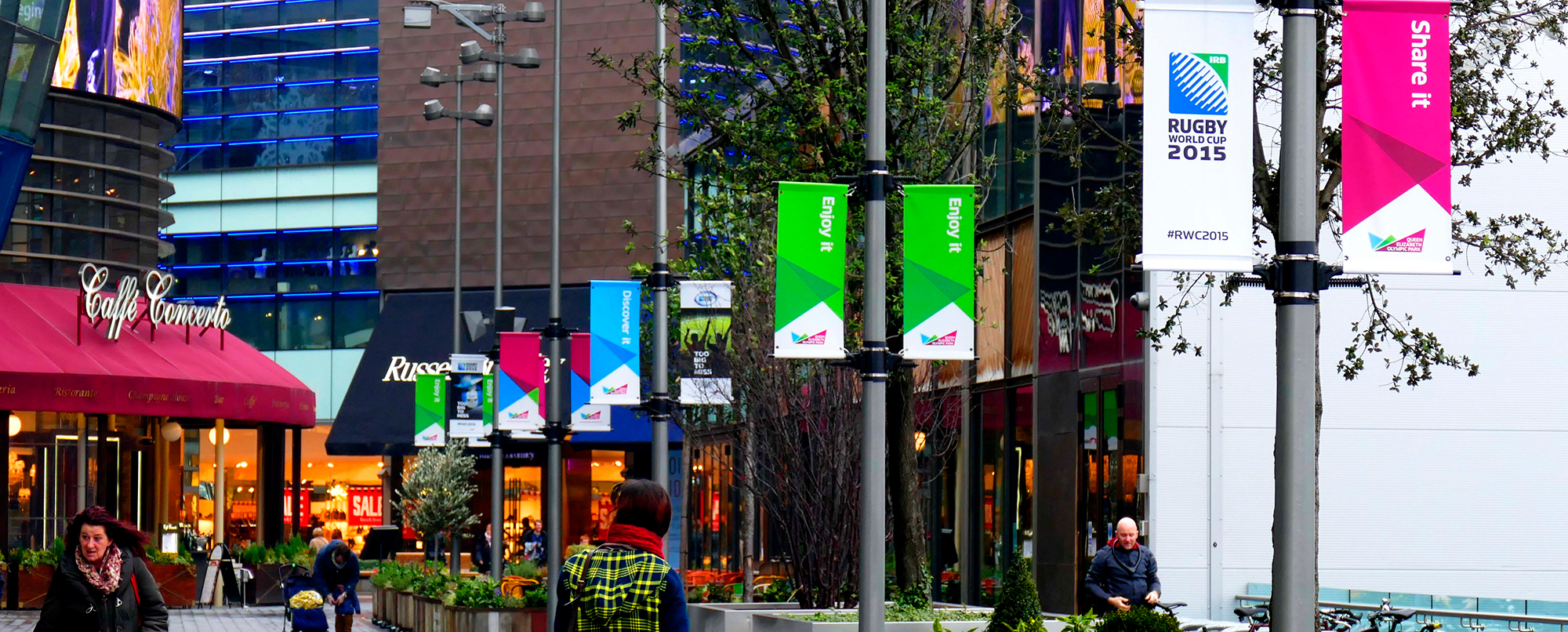 Lamp Post Banners
Lamp post banners are one of the most cost-effective ways of targeting large audiences in high footfall areas such as busy high streets, main arterial roads and at event/sporting venues. Lamp post banner advertising offers high viewing frequency to your target audience and conveys an impression of authority and stature.
Lamp post banners are raised to allow brands to avoid the clutter of street level, and they lead to a x 2.5 higher recall rate than ground-level advertising. They offer 24-hour viewing, illuminated by street lighting during hours of darkness.
Lamp post banners offer high viewing frequency to your audience, and as lampposts are located on almost every street and road, they offer the most diverse range of locations of any other outdoor media. Raised banners are suitable for all campaign durations – if you want to run a short burst campaign or have a longer-term objective in mind, your advertisements will rise above other media types and simply won't be missed.
Banners are relevant for all businesses, from local businesses reliant on local trade through to big-name brands that want to boost awareness and national businesses running major campaigns. A wide range of different marketing objectives can be fulfilled with a targeted lamppost banner campaign.
Watch our quick videos on lamp post banner advertising:
Frequently Asked Questions
What messaging can be advertised on lamp posts?
Lamp post banners can advertise a wide variety of messages, from an event or product promotion to directional messages. Different designs and messages can feature on each banner to tell a story or give a broader message. High-quality fixings and vinyl ensure that advertising looks professional and slick throughout the duration of the campaign.
Is it legal to advertise on lamp posts?
It is only legal to advertise on lamp posts where the local authority has given permission. All lamppost banner campaigns that we provide our clients are fully authorised by the local authorities
How much does lamp post advertising cost?
Lamp post banner advertising is a cost-effective format, suitable for all marketing budgets. Costs vary depending on a number of factors, including:
The number of sites being booked
The predicted audience delivery figures
The duration of the advertising campaign
Based on your target audience and geographical area we can provide you with a fully costed proposal to meet your advertising objectives and fit with your budget.
What are the benefits of lamp post advertising?
Lamp post advertising is extremely effective in building a local brand presence, with repeated exposure (generally daily) increasing brand recall by

x 2.5.
Gives the ability to geo-target local (and regional) audiences and helps build a reputation in the local community.
It is high impact, highly visible and helps elevate brands and brand awareness.
Has the ability to engage with your customers where it will have the greatest relevance for your campaign.
Helps brands reach customers in the "Active Space" directly influencing their purchasing behaviour.
A diverse range of locations means that your campaign can be targeted to an individual site or dominate an entire street or area.
Offers brands the ability to gain high-street penetration
Targets drivers, passengers &pedestrians alike, with extended dwell times due to traffic-heavy locations
Explore Street Advertising
Get in touch