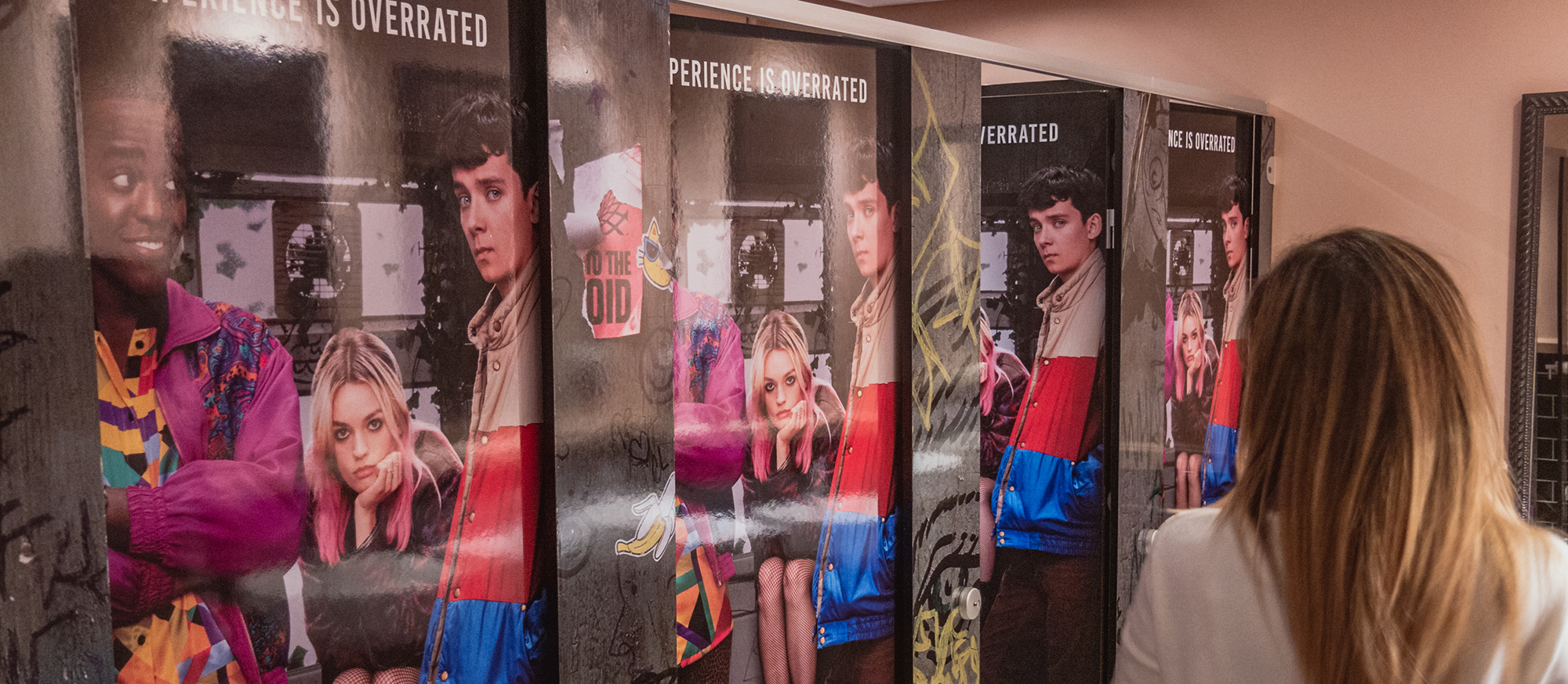 Washrooms
Offering long dwell times of around 80 seconds (Source: AdMedia), high rates of recall and true gender targeting, washroom ads allow you to target and engage a captive audience when they have minimal distractions, so your message is guaranteed to be read.
Located in bars, pubs, shopping centres, airports, motorway service areas and more, they offer you a valuable opportunity to reach a vast cross-section of the population at all times of day and night, 365 days a year.
Their face-level positioning boosts interaction – ideal for advertisers requiring a direct response. So, your poster is more likely to be read, thought about, recalled and acted upon.
Mirror clings and door vinyls are unmissable, offering brands the opportunity to target specific audiences, such as sports fans, students and motorists in a discrete, high dwell time environment with fewer other ads around to catch their eye.
Posters on the back of doors, above hand dryers or near baby changing can be read and remembered, offering you cost-effective opportunities to reach your specific audience. People reading them will not only remember your message but are likely to talk about it and search for more information on their mobiles, too.
Washroom advertising is naturally geared to targeting, too – offering personalised messaging in male, female, disabled, changing places and baby-change facilities.
Frequently Asked Questions
What are the benefits of washroom advertising?
With washrooms in bars, venues, shops, motorway service stations and airports, advertising here gives your brand a great opportunity to reach a wide range of people. The true benefit is the broad category targeting across gender – as well as the niche targeting is disabled, changing places or baby-changing facilities which gives you a unique opportunity to speak directly to your consumer.
How much does washroom advertising cost?
Advertising in washrooms is a cost-effective format, suitable for all marketing budgets. Costs vary depending on a number of factors, including:
The number of sites being booked
The predicted audience delivery figures
The duration of the advertising campaign
Based on your target audience and geographical area we can provide you with a fully costed proposal to meet your advertising objectives and fit with your budget.
Where can I use washroom advertising near me?
From poster sites to mirror clings in washrooms found in some of the UK's top shopping centres, supermarkets, airports, service stations and more, let us know who you'd like to advertise to, and we'll find you the right solution. So if you want to target new parents in the supermarket, men at a conference or women in a sports stadium, we can help you get the message across.
Who sees washroom advertising?
Washroom advertising is visible to a wide range of the population, across all demographics. From shoppers, supermarket customers and concertgoers to families heading on holiday at the services – with longer dwell times guaranteed and your adverts in less distracting situations for maximised results.
Explore Location Based Advertising
Get in touch