Luminate Education Group
The Brief
We assisted Leeds City College and its students during the COVID-19 pandemic to secure donations of laptops, dongles, routers, and Wi-Fi cards from local individuals and businesses to help students access remote learning. Many students did not have devices or connectivity and therefore could not access the resources that they needed to continue with their education.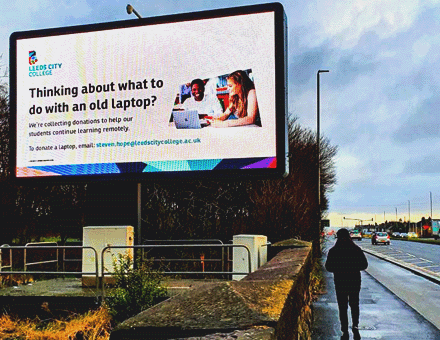 The Solution
We quickly came up with an innovative strategy of approaching key media owners to leverage free media space for this worthwhile cause, with the intention of delivering an impactful zero cost campaign to support the colleges and their students. We launched a four-week campaign, whereby we managed to secure a total of £67,000 worth of out of home media advertising space at zero cost (£20,000 of that coverage was live within the first 36 hours of campaign launch), plus a further £40,000 worth of PR coverage.
Overall, the campaign gained 7,469,183 impacts, and utilised a wide range of different OOH elements, including a roadside billboard on the M62 motorway – this alone delivered 2,297,820 impacts. There were 49 x 6 sheets in Leeds train stations, Leeds bus station and Leeds Bradford airport – these gained over 3.6million impacts. We also secured digital mega 6 sheets outside Leeds Trinity Shopping Centre, 68 digital bus stops around Leeds and 3 digital 48 sheets. We used digital ad vans to target key routes in & around Leeds. Our PR team also gained radio coverage including live news reads on Capital FM and Greatest Hits Radio.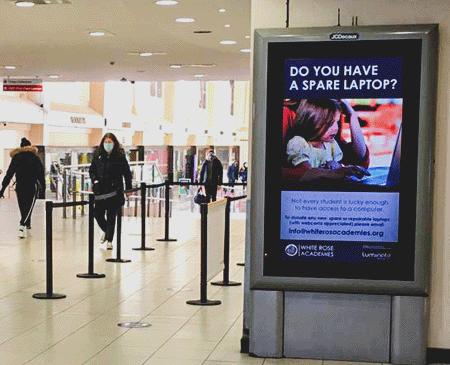 The Results
The campaign was a great success and during the period over 2000 devices were donated and distributed to their students to support remote learning. We received fantastic feedback from our clients who were very grateful to us for supporting the appeal via creating the innovative strategy of galvanizing the support of the media owners to deliver this campaign.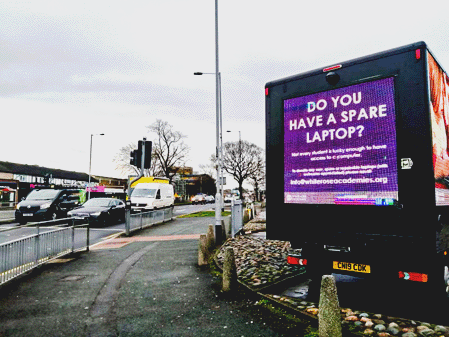 Bramley Park Academy
The Brief
Bramley Park Academy had the following objectives that they wanted us to help them achieve: grow all of their class sizes, promote their new wrap-around care facility in the school, raise awareness of their free extra-curricular activities in the school and their free school uniform offering.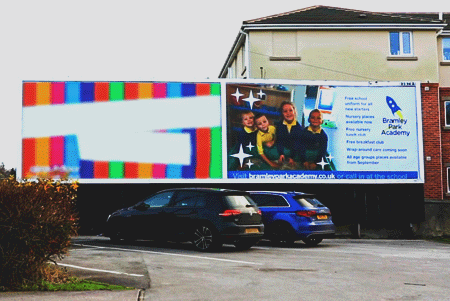 The Solution
We produced a strategy of targeting local families to refresh the message and make them aware of the new services in the school, as well as extending marketing activity to locations slightly further out from Bramley, to reach areas with already full primary schools.
We carefully selected a range of poster sites in these areas to deliver a message that highlighted the close proximity of the new academy as well as the availability of places. We also provided them with a railing banner to promote the wrap-around care and the core values of the school – 'Believe, Persevere, Achieve'.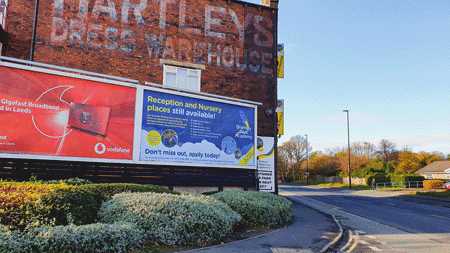 The Results
The Principal of Bramley Park Academy was delighted with the campaign results – they filled all of their Year 1 intake places for the first time in several years, and also achieved additional student recruitment across all year groups.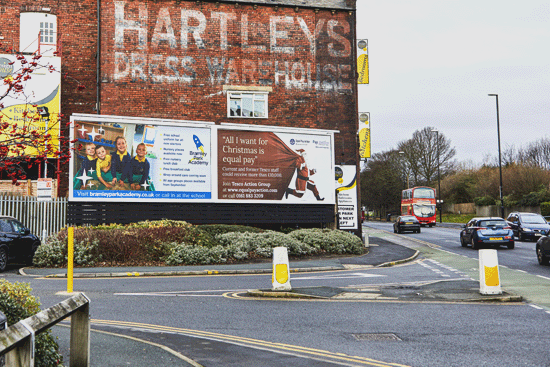 Boston Spa Academy
The Brief
Boston Spa Academy asked us to help them with the planning and delivery of their successful Sixth Form Recruitment Campaign. The Academy were fully aware that they have a very limited number of outdoor media opportunities available to them, due to their location, and were unsure how they could market to potential students and their parents and influencers.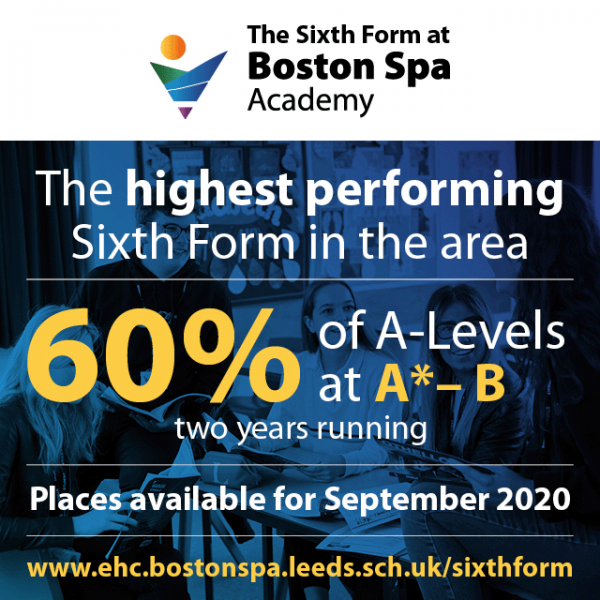 The Solution
We identified that the most effective way for the Academy to reach their target audience in their catchment postcodes was through the use of highly targeted Spotify digital audio advertising.
This meant that they could reach the people that they wanted to communicate with, in their everyday moments, on any device, in any environment, throughout the day, as the audio ads were served between songs whilst there were no distractions.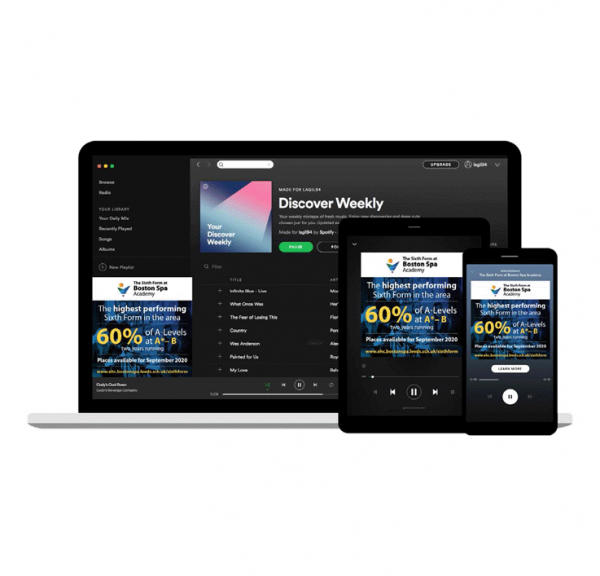 The Results
The campaign performed brilliantly – when we originally planned the campaign we expected to achieve a reach of 17,000 – 19,000 individual people over the course of the 4 month campaign. The final reach figure of 40,436 more than doubled what we had predicted! The total number of ads served was 496,203, giving us a frequency of 12.27. There was also 950 clicks on the creative visual, taking people through to the Boston Spa Academy web page – this equates to a strong CTR of 0.19%. The completion rate was also high with 93.46% of people listening to the full 100% of the audio advertisement.
Explore Education
Get in touch